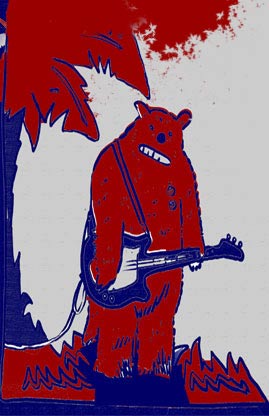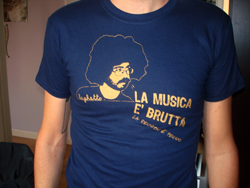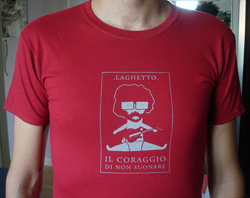 01. avril lavigne
lyrics
translations
02. il conguaglio
lyrics
translations
03. lebbra is the reason
lyrics
translations
04. hey : yeh (palindrome song)
lyrics
translations
05. amaritudinis I movimento
lyrics
06. amaritudinis II movimento
lyrics
translations
07. amaritudinis III movimento
lyrics
translations
08. amaritudinis IV movimento
lyrics
09. per un'estinzione umana ecosostenibile
lyrics
translations
10. robi dal bosco libero
lyrics
11. piovo
lyrics
translations

---

1. AVRIL LAVIGNE

Non dirmi cosa dire, non dirmi cosa fare, non farmi cosa dire, Non farmi dire cose che sian foriere di analessi disattese. il piano quinquennale non e' mica fallito, non e' neanche partito. e io non so se quel che dico e' solo superficie o qualcosa di piu', quello che si puo'dire, quello che si puo' urlare e' solo l'urletto whoooa!

sono solo un giullare col viso ormai segnato, son delegittimato e dico cose senza senso, non chiedermi se penso, sono soltanto un folle, un gioco di parole che dice la verita'.

soffocare l'espressione personale limitandoci a fare quello che ci viene detto: lavorae stai zitto, moltiplica il profitto e tanti auguri di una vita felice e produttiva. evviva: siamo tutti inquadrati in quella societa' che abbiamo fatto finta di mettere in discussione.. anche io mi sono chiesto se ho vinto oppure ho perso ma noi non abbiamo partecipato.

la massa e' pirla:. Non seguirla.

Don't try to tell me what to say, don't try to tell me what to do, don't try to do me what to tell, don't make me say something that may bring unattended expectations. The five year plan didn't fail, it actually didn't start. I don't even know whether what I say is just surface or something more, all that we can say, all that we scream is the just the yell "woooh!"
I'm just the joker with a marked face, I'm delegitimized and I make statements with no sense, don't ask me what I think, I'm just a fool, a game of words telling the truth.We learn to suffocate personal expression, limiting ourselves to do what we're told to: work and keep silent, multiply the profit, and best wishes for a happy productive life. Hooray! we all fit in that society we pretended to question…me too, I ask myself whether we've won or lost, but actually we didn't even participate.
The mass is hollow. Don't follow

2. IL CONGUAGLIO >>>up

ecco. Mi dissero qualcosa. Ma io non c'ero, stavo evaporando, e poi di quando in quando, la testa fra le mani, strapparsi i denti a mordere gli asciugamani.
ecco che mi dicevano di desiderare ma non sapevano che avrei divorato tutto, io sono l'angolo supplementare. Ho divorato i sogni e poi sputato l'osso, e vagando nel buio mi appigliavo alle ombre, ma intorno c'era solo ghiaccio crudo e grumi di carne con le bandierine della norvegia sopra ereditati nascendo, ma corrosi da un continuo passaggio di stato. Spruzzarsi l'arancio nelle ferite. Spruzzarsi l'arancio negli occhi e nelle ferite.

ho combattuto la forza di gravita'. L'avrei anche sconfitta, ma poi mi ha risucchiato il vuoto, che' il vuoto non si da' in natura ma nel mio stomaco si da' eccome, perche la bellezza e' un veleno che ti strappa il cuore.

Ora accarezza il fondo, inspira questo vuoto, avverti la nota stonare. La velocita di fuga e' quella della luce, ascolta la nota stonata che accompagna me. Vengo risucchiato dall'orizzonte degli eventi, ascolta la nota stonata che accompagna me.
In quel momento che sfugge al mio controllo, in quel momento asincrono per definizione, mi son seduto ed ho atteso il conguaglio, che arrivera' un giorno troppo lontano, essendo tuttora in vigore quello che noi chiamiamo il paradosso di zenone..

The cycle of desire is always in motion. We desire something and we blame its lack for our sorrow, but when finally that desire is fulfilled, another one comes along, with no relief for us. Our desire finds a new missing object to achieve. This continuous subject-object separation creates a blank space, which daily condemns us to a partial death, engulfing everything. We wait all of our lives for that balancing that life itself owes us, a refund for what eternally misses between our strife and our achieval.


Well, they told me something but i wasn't there, I was evaporating, and now and then with the head in my hands, tearing off the teeth biting towels.
Well they told me to desire but they didn't know that I would devour everything. I am the Additional Angle. I devoured the dreams and then spit the bone, and wandering in the darkness I got hold of the shadows, but all around was only crude ice and lumps of flesh with Norwegian flag on top, inherited at birth but corroded by a continuous shape shift. Spraying the orange into the wounds. Spraying the orange into the eyes and wounds.
I fought the gravity. I won it but then vacuum swallowed me, 'cause vacuum is not supposed to exist in nature laws but in my stomach instead. Because beauty is a poison that rips your heart out.
Now feel the bottom, inhale this vacuum, feel the downtuned note. The speed to escape is the speed of light, hear the downtuned not that comes with me. I feel like being swallowed by the event horizon, please hear the downtuned note that accompanies me.
In the moment that defies my control which is out of sync by definition, I sat down and I waited for the balancing, which will arrive one day, too far, given that he escape velocity is next to infinity and given that the Zenon Paradox is still ruling.

3. LEBBRA IS THE REASON >>>up

cara oriana fallaci,
la presente missiva del ns. complessino per testimoniare quanto ti apprezziamo e ti stimiamo grandemente, simpatica giocherellona [brutta nazista di merda, devi morire]
perche' nonostante il fatto che tu abbia un solo neurone come i calamari, sei autrice di grandi opere della letteratura contempornea quali 'lettera ad un bambino mai nato'
[ma era meglio se non nascevi te, ti venisse la pellagra]
e nonostante la demenza senile sei riuscita a scrivere capolavori quali 'oriana fallaci intervista se stessa' [testa di cazzo. chi ti credi di essere]
ed e' quindi con grande affetto che ti diciamo [che e'' alla gente come te che gli deve venire lo tsunami]
ehi ma qui non si riesce mai ad esprimersi bene, noi esprimiamo solidarieta' al cancro che ti divora il cervello. ieri dopo aver letto il tuo libro, in preda all'ira ho sperato che ti venisse la lebbra.
ieri ero ubriaco ma oggi confermo.

lebbra pellagra scabbia, analessi polmonari, narici ad estuario, ossimori improvvisi, bufali intestinali, pitture vascolari, piramidi di paura, gibbo manifesto.
bolo incendiario, chiasmo bronchiale, bolle papali labbro leporino. gotta, osmosi, ebola, vuoto cosmico, propellente anti squali, grappolo di gualtiero. denti inutili sparsi per il corpo, deflagrazione degli organi interni, organi inutili usati come denti, scelte errate al posto delle ossa. squarci in testa col ph neutro, enfiteusi di modesta origine, ricottata di materia grigia, pier luigi diaco.

Leper is the reason
Dear Oriana Fallacy, the following letter from us to express how we appreciate and estimate you, funny [die you fucking shitty nazi] because in spite of the fact that you just have one neuron like the giant squid, you wrote some masterpieces like "letter to a never born child" [it was you that should have never been born, may you get the pellagra] and despite the growing senile insanity, you still was able to write some great works of contemporary literature like "Oriana Fallaci interviews herself"….(?) [you dickhead, who the fuck do you think you are?] and it is thus with great friendship that we say that [it would be supposed to affect you, the tsunami] …oh, well, it seems impossible to express oneself here, well, we support the cancer which devours your brain, the other day, after reading your book, blinded by anger, I hoped that you would be infected by leper. And yes, yesterday i was drunk, but today I confirm everything.
(…)

4. HEY:YEH (PALINDROME SONG) >>>up

IN GIAPPONESE L'ESPRESSIONE PALINDROMA ura aru SIGNIFICA "L'INVERSO ESISTE" - NON SI POSSONO VEDERE BENE LE COSE DEL MONDO SE NON LE SI GUARDA ALLA ROVESCIA E D'ALTRONDE DA CHE MONDO E' MONDO IL ROVESCIO E' IL VERSO DEL DIAVOLO. I RAGAZZI AUTISTICI SPESSO RIESCONO A PARLARE AL ROVESCIO PER UN FENOMENO DI OPPOSIZIONE PSICOLOGICA E LINGUSITICA, E QUESTO E' DA SEMPRE CLASSIFICATO COME ANORMALITA', E DEVIANZA, PERCHE' INVERTIRE L'ORDINE DEL MONDO E' SOVVERTIRLO, SALVO POI SCOPRIRE CHE IL MONDO ALLA ROVESCIA E' IDENTICO ALLO STATUS QUO CHE SI PENSAVA DI SOVVERTIRE. QUESTO E' IL PALINDROMO, SCOPRIRE I DUE VOLTI DEL MONDO E TROVARCI QUALCOSA DI MAGICO E RIVELATORE.
INSOMMA., live E' evil.

-O mordo tua nuora o aro un autodromo-
o sole giallo, ma lo so, l'ossesso- lo so, la mollai geloso.
è dio lo gnomo mongoloide.

In Japanese, the expression "URA ARU" means "the reverse exists". We can't properly see the things of the world unless we watch their reflection. After all, the devil has always spoken in reverse.
Autistic kids often manage talk in reverse, as a form of psychological and linguistic opposition; that has always been labeled as anormality, because to reverse the world's order is to subvert it.

But then it may turn out that the mirror's image of the status quo is the same as the one we wanted to subvert.

The palindrome reveals the opposite face of things.
Live = Evil

Videmus nunc per speculum in aenigmate - we see now by enigmas in mirrors.


"if i had a hi-fi..."

5. i MOVIMENTO. ADAGIO LENTO. PRELUDIO CON PIPA IN SALSA AGRODOLCE E CAZZI VARI

6. ii MOVIMENTO. ANDANTE DERIVATIVO TAMARRO CON MOTO, SUPERATO, MA NON TROPPO >>>up

finche' balleremo sara' tutto uguale DOMANI, FINCHE' MUOVEREMO I CULI INVECE DI FARE COSE CON LE MANI.

IMPOSSIBILE NON MUOVERSi davanti alla stasi in movimento. IMPOSSIBILE RESTARE FERMi. incongruo lasciarsi abituare, IMPOSSIBILE STABILIRE UNA CONNESSIONE FRA la possibilita' di una RIVOLUZIONE e la situazione attuale intrisa di accettazione. com'e' possibile assuefarsi piano piano a cio' che dovrebbe essere combattuto ogni giorno? com'e'possibile lasciare stare e vendere how to clean everything per pagare la sarta che stringe i vestiti?
...invece di combattere ogni giorno, solo perchE' ogni giorno ce n'e' una peggiore del giorno prima.

As long as we'll dance, everything will be the same tomorrow, as long as we'll shake our asses instead of making things with the hands. As long as we'll shake our asses instead of using our head and hands.
It's impossible not to move (as we roll in the mud), it's impossible to keep still (what we're searching for is not to be for a while), it's impossible to establish a connection (the quest for novelty is not a revolution, but the principle of changing everything but changing anything). How can it be possible to slowly inure to what should be fought every day?
…instead of fighting every day, for every day there's something worse than the day before.

7. iii MOVIMENTO. ALLEGRO MENUETTO VIVACE ASSAI, PRESTO, SMODATO CON TRUPATRUPA >>>up

ma per fortuna c'e' qualcuno che non si e' lasciato assuefare,
e per fortuna io ho ancora un senso estetico, ma la par construens la lascio a qualcun altro... mi limito a guidare l'estrema frangia che intende infrangere le frange.
la distruzione e' la fase principale del cambiamento:
anche il nichilismo e' un arte e ci vuole talento.

la mia parte distruttiva e' la mia parte peggiore, la mia parte distruttiva ha troppo ragione. io sono il peggiore ma mi voglio bene e non voglio sapere piu' niente. la mia parte distruttiva e' la mia parte peggiore, la mia parte peggiore e' la mia parte migliore. MA A TE CHE TI FREGA? TANTO IL TESTO NON CONTA PIU' UN CAZZO, IL TESTO DI UNA CANZONE NON CONTA PIU' UN CAZZO. MA A TE CHE TI FREGA? TANTO PUOI SEMPRE CHIAMARE TUTTO QUESTO UN FOTTUTO NONSENSE.

But luckily there's still someone that didn't let themselves be inured, and luckily I still have an aestethical sense, but the constructive part, I leave it to someone else …I just lead the extreme wing who mean to break forelocks.
Destruction is the main part of changing. Nihilism is an art too, and it takes talent.

My destructive part is my worst part, my destructive part is not so wrong. I'm the worst, but I love myself, and I don't want to know anything else. My destructive part is my worst part, my worst part is my best part. But do you really have to care? For the lyrics are not so important anymore, the lyrics of a song are not so important anymore, do you really have to care? Tie your tie, for after all you can still call all of this a fucking nonsense.

8. iv MOVIMENTO. POCO ALLEGRO, FINALE GRAVE ASSAI A FUOCO MODERATO.. EH.SI

instrumental

9. PER UN ESTINZIONE UMANA ECO-SOSTENIBILE >>>up

n e vero che sono cattivo come dici, appartengo solamente alla razza umana, e mi sono mangiato un pezzo della coscia, e non era niente male, niente male.
ho dedotto che la mia fine e' il mio principio, prova ne e' il fatto che ognunque io utilizzi spessamente congiunzioni articolate e altri avverbi a caso tipo stupendevolmente [come dice carmen consoli] attraverso i quali mostro scaltritudine [intelligenza] con cui illustrero la nuova missione, la mia soluzione, per un estinzione della popolazione

Mi mangio le unghie, mi mangio le mani, mi mangio gli occhi e la cassa toracica.
Non consumero' piu niente che non sia me stesso
Per cacciare le ossessioni mi divoro gli organi, per cercare di sparire consumero' la presenza fisica, per distruggere il rimorso mi sono morso le mani e poi un polso ed ho affondato fino all'osso
Non consumero' piu niente che non sia me stesso
E mentre pratico questo divertissement dell'autoantropofagia, e mentre autosuicido il mio corpo col cannibalismo di me stesso riconosco in esso l'inequivocabile soluzione finale alla seguente lista di problemi del mondo che vado ad enunciare: l autosufficienza - la sovrappopolazione - l'esaurimento nervoso e delle risorse denergia - la lotta al consumismo - la polluzione - l'uomo fa cagare e dobbiam mandarlo via da questo mondo.

L'estinzione umana e' dunque l'unico traguardo. non consumero' piu' niente che non mi appartenga, non distruggero' piu' niente che non sia me stesso Per chi gia' si consuma ogni giorno , per chi si sfinisce ogni giorno in pasto a se stesso.
Consumarsi ogni giorno per finirsi e per sfinirsi,
digerire il proprio corpo e smaltirlo ecocompatibilmente.
Perche mi sono insostenibile, perchE' non ce la faccio piu'
Mi mordo le mani, mi mangio i gomiti, ingoio il mio collo e poi non ci sono piu'.

For an human extincion ecologically sustainable

It's not true that I'm bad like you say, I just am part of human race, and I ate a piece of my thigh: it' was not so bad, not so bad…. I realized that in my end there is my beginning, a proof of that is the fact that ANYWHENCE I UTILIZE OFTENLY ACROBATICOUS CONJUCTIONIGS AND OTHER RANDOMOUS ADVERBIAL ADVERBS LIKE "SUPERFANTASTICOUSLY" THROUGH WHICH I SHOW SCALTRITUDE, with which I will expose my new mission, my solution, for an extinction of the popolation.
But now no more doing the hysteric queers.
I eat my nails, I bite my hands, I eat my eyes and the thoracic case.
No longer I will consume anything but myself. In order to eject my obsessions I will devour my organs, to try and disappear I will consume the physical presence. In order to destroy remorse I bit the hands and then a wrist to the bone. And as I practice that divertissement called self-anthropophagy, and as I autosuicide my body with cannibalism of myself, I recognize in it the undeniable final solution to the following list of world problems that I am about to expose:
Self-sufficiency, Overpopulation, Nervous breakdown, Shortage of energy resources, War to consumism, pollution, mankind sucks it has to be evicted from this world.
Human Extinction is then the only one aim, no longer I will consume anything but myself, no longer I will destroy anything but parts of me… well, for those who consume themselves every day, for those who exaust themselves everyday, for those who ends themselves as their own food.
To consume oneself everyday to exaust and to finish, to digest one's own body and to get rid of it in a sustainable and ecological way.. Because I can not sustain myself, because I can't stand no more , no, no no.
Then I eat my hands, I bite my elbows, I swallow my neck and I no longer exist.

Robi Dalbosco, mi sa che hai sprecato l'opportunità della vita, due gradi di astigmatismo e eper noi è finita... Robi Dalbosco Libero. E' vero.... e prova a aggiustare la mira. Sai cosa ti dico, la prossima volta tiragli pure il flash e la minolta, Robi Dalbosco Libero. Ma perché quando ce n'è bisogno non c'è mai un'alabarda a disposizione?

11. PIOVO >>>up

COME BRUCIARE QUELLO CHE TI PASSA INTORNO IN TRE MOSSE PROVANDENE POI IL RIMORSO: NON E' DIFFICILE, SAI, PERCHE' BASTA SEGUIRE I MIEI PASSI: IO POTREI TENERE UN CORSO. COME FRIGNARE IN MODO PERVERSO SU QUELLO CHE HAI PERSO, INCAZZArsi CON L'UNIVERSO.
NON HO BISOGNO DEL DOTTORE. NON HO BISOGNO DI CURARMI DALLA MIA SCHIZZOFRENIA. ANZI SI.
E NON E' VERO, CHE SOFFRO DI DISTURBi DELLA PERSONALITA', ANZI SI, no. E' LA VERITA'
SCRIVERO' IL MIO NOME SULLA TUA TOMBA: DIVENTEREBBE LA TUA.
il tuo dio ti ha lasciato ed io sono il suo supplente. e con questo?
MI PERDONERO' UNO SFOGO PRIVO DI SENNO...

PIOVO [piovro] LATTE VERSATO [enorme] SU UN COCCODRILLO, LACRIME AMARE [che suona le campane] SOPRA DI ME: LATTE CHE PIANGE [poi mi scorge, si erge] DENTRO IL GINOCCHIO, VOLTO LA CARTA E NON SO PERCHE'. [ed emette il suo verso] E' IL VERSO DEL COCCODRILLO [ma non vuole] CHE MESCOLA IL LATTE [spolparmi] E POI VERSA PIANO [lacrime che incrementano il mare] LACRIME, CHE PIOVONO IN TERRA E ANNEGANO IL CUORE. SONO IN GINOCCHIO VERSO DI TE [punta un tentacolo verso di te].
io verso in uno stato pietoso e ho il latte alle ginocchia, LE GINOCCHIA VERSANO [corpo di mille balene!] E GIACOMO GUARDA VERSO DI ME, ma le mie corde sono troppo tese, si rompono e tagliano la faccia, il coccodrillo versa latte nella pioggia: E' PERVERSO, MA E' UN VERSO CHE HO SCRITTO PER TE (O' POETA)

PIOVO [piovro] SANGUE ALLINVERSO [ferito furente] CHE VERSA LATTE NEL MIO GINOCCHIO: [fossi in te] MI PREOCCUPEREI... C'ERA LA NEVE, QUI C'E' LA PIOGGIA, [ma tu invece volti le spalle] IO STO ANNEGANDO [chiami il mio nome, do] VECCAZZOSEI? [sono qua, morente] ORMAI CI HO IL LATTE ALLE GINOCCHIA, MA E' [gia e' pronto] UN COCCODRILLO CHE MORDE I POLPACCI, ANZI E' DIVERSO, PALPA I MORDACI, [mi piange, le budella le cervella] SONO FUORI DI ME.
RICORDO, C'ERA LA NEVE, TU GRONDAVI, I MIEI CAPELLI GRONDANO [non avevi capito il senso?] MA NON SONO PIU LE STESSE GOCCE, [piove sangue] IL GHIACCIO SI E' SCIOLTO ED HA ALLAGATO IL GINOCCHIO, ANZI NO HA ALLAGATO IL CUORE. CHE CAZZO E'? UNA CANZONE D'AMORE? HO UN OMBRELLO NEL CULO CHE SI APRE DA SE'.

HOW TO BURN WHAT SURROUNDS YOU IN THREE MOVES FEELING THE REMORSE OF IT: IT'S EASY, YOU KNOW, YOU JUST HAVE TO FOLLOW MY STEPS, I COULD HOLD A CLASS: HOW TO SICKLY CRY OVER WHAT YOU HAVE LOST AN BLAME THE UNIVERSE.. I DON'T NEED A DOCTOR, I DON'T NEED A CURE FOR MY SCHYZOPHRENIA, NO, I DO. IT'S NOT TRUE THAT i HAVE PERSONALITY DISORDER, NO, WAIT, IT'S TRUE, YES I DON'T.
I WILL WRITE MY NAME ON YOUR GRAVE- (BUT THEN IT WILL BECOME YOURS)- YOUR GOD LEFT YOU BEHIND AND I'M HIS SUBSTITUTE -(SO WHAT?)- I'LL FORGIVE MYSELF FOR A NONSENSE COMPLAINING.

I RAIN, SPILT MILK ON A CROCODILE, BITTER TEARS OVER ME, MILK WEEPING INTO THE KNEE, I TURN THE SHEET BUT I DON'T KNOW WHY. THE SOUND OF THE CROCODILE SLOWLY MIXING THE MILK WITH SPILT TEARS, RAINING DOWN AND DROWNING THE HEART, I'M ON MY KNEES TOWARDS YOU.
BAD CONDITION FOR ME: MILK ON MY KNEES, KNEES MAKING JAMESJAMES AND JAMES WATCHING TOWARDS ME.. BUT MY STRINGS ARE TOO MUCH TIGHT, THEY BREAK CUTTING THE FACE, THE CROCODILE POURS SOME MILK IN THE RAIN, I KNOW IT IS PERVERTED BUT IT IS A VERSE I WROTE FOR YOU (THE POET)
I RAIN, INVERTED BLOOD SPILLING MILK IN MY KNEES I WOULD WORRY, THERE USED TO BE THE SNOW BUT IT IS RAINING, I AM DROWNING, WHERE THE FUCKARE YOU? EVENTUALLY I HAVE GOT MILK ON MY KNEES BUT IT IS A CROCODILE BITING THE LEGS, AM I GETTING CRAZY?
I REMEMBER THERE WAS THE SNOW, YOU DRIPPED, MY HAIR IS DRIPPING BUT IT IS A DIFFERENT KID OF DROPS, ICE HAS MELTED AND FLOODED THE KNEE, NO, IT FLOODED THE HEART INSTEAD, WHAT THE FUCK?!? A LOVE SONG? I HAVE GOT AN UMBRELLA STUCK IN MY ASS, IT OPENS BY ITSELF.